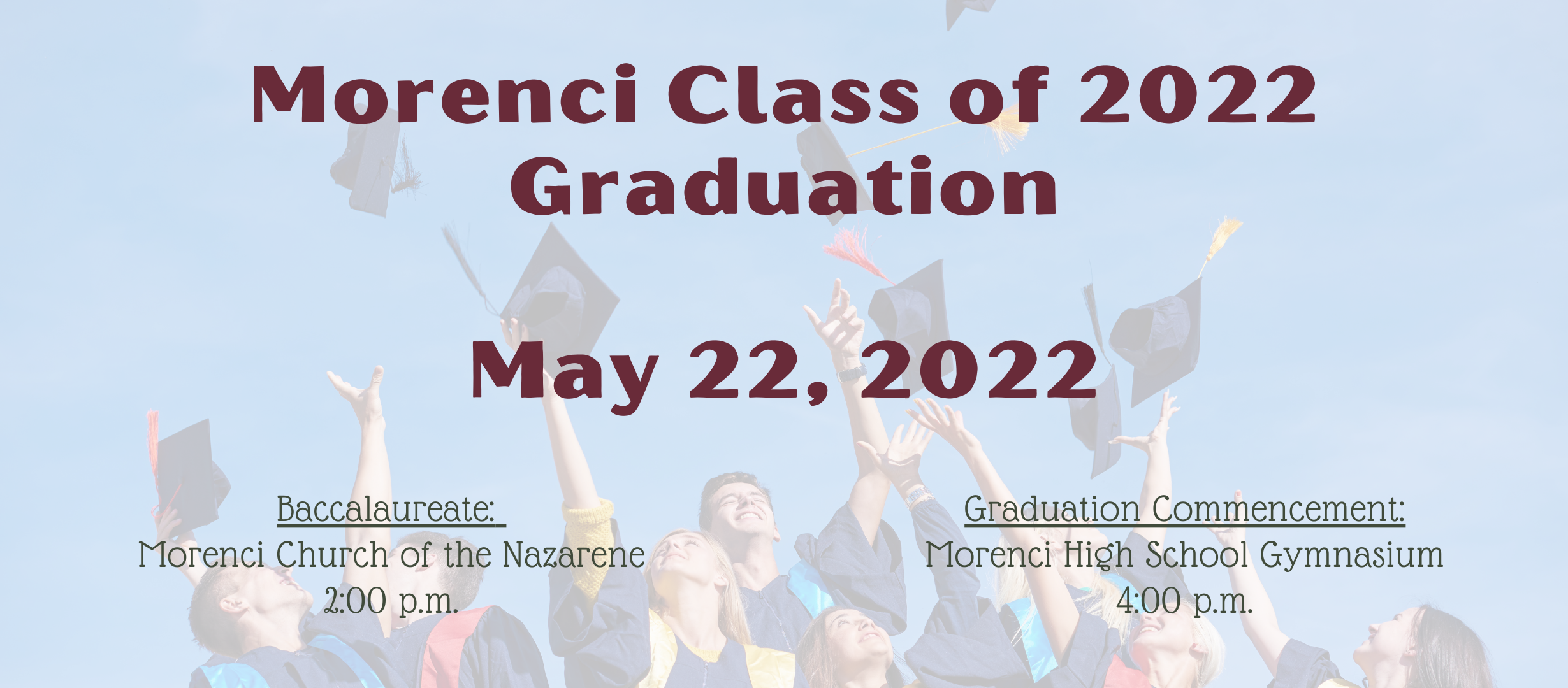 MHS CLASS OF 2022
END OF YEAR INFORMATION
PM Exams on May 18- PM TECH CENTER KIDS STILL ATTEND-this is their last day at Tech

AM Exams on May 17

Students with 2 or less days absent during the 2nd semester are exempt from exams if they are at a passing grade

All absences count toward the 2 except funeral and field trips



The REQUIRED "THIS I BELIEVE" presentations will take place on May 18 and May 19 during the AM hours.

HS Gym at 10:00 on May 20th-This is a mandatory event.

Students must be there on time and participate in rehearsal to walk at Commencement on Sunday.

All fines have to be paid as of rehearsal time, and all materials (books, Chromebooks, etc.) must be turned in to receive a cap/gown.

We will have you fill out an exit form at rehearsal as well.

Premiere Bank will attend and give out information on starting accounts.
This is a formal event. Please dress appropriately. No tennis shoes or flip flops. No jeans/sweats etc. Guys need to be in a dress pant, colored shirt, and a tie is optional. Girls should be in dress clothes as well. If you need assistance with clothing/shoes, please let Mrs Irish know as soon as possible and we can get that taken care of.

Mr. Lemmon will be reading your plans for after graduation: college, military, work, apprenticeships, etc. He will also need to know what scholarships you have and how much they are for.

Baccalaureate-Arrive no later than 1:30 in the parking lot of the High School. We will walk to the Nazarene Church where Baccalaureate will be held at 2:00 pm on May 22nd. Baccalaureate is NOT required.

Commencement -Arrive no later than 3:30 on May 22 to the MS/HS Cafeteria

If you would like a board member to hand you the diploma, I need to get a written request from you by May 16th. This applies to only BOARD MEMBERS. Other staff or family may not do this.

Remember that you do not get your diplomas in the case upon walking across the stage. This is to ensure you act appropriately at the event.

After the recessional (class song), you are dismissed to go pick up your diploma at the table by the Activities Entrance.

NHS students must return their mantles to Mrs. Dunford or an administrator before leaving the parking lot.
Please be aware of the information above for your student.

There is NO reservation of seats at Baccalaureate or Commencement.

The HS will open the activities entrance at 3:00 for seating.

The Nazarene Church will open at 1:30. Again, you may NOT save seats for others. First come, first serve.

Baccalaureate 2:00 pm @ Nazarene Church

Commencement 4:00 pm @ Morenci High School Gymnasium

HR Imaging will be taking photos when your graduate crosses the stage

HR Imaging will be set up in the cafeteria for pictures following the ceremony for any pictures

Information on ordering pictures will become available prior to graduation
***Students have until Sep 1, 2022 to transfer all their current email information to new email as yours will be shut down at that time.