Every day is a new opportunity for our elementary students to shine bright! 💫📖 #MorenciBulldogs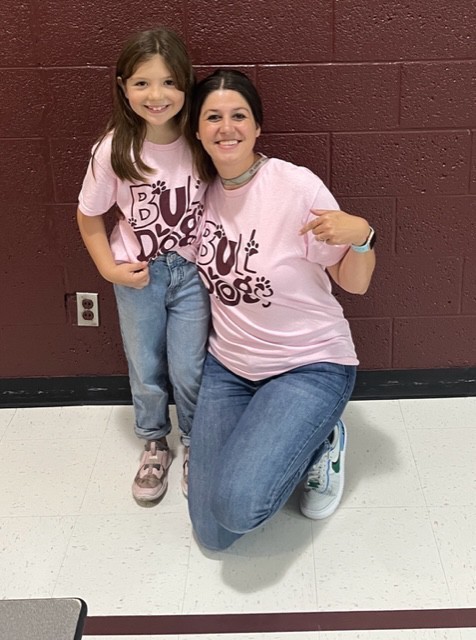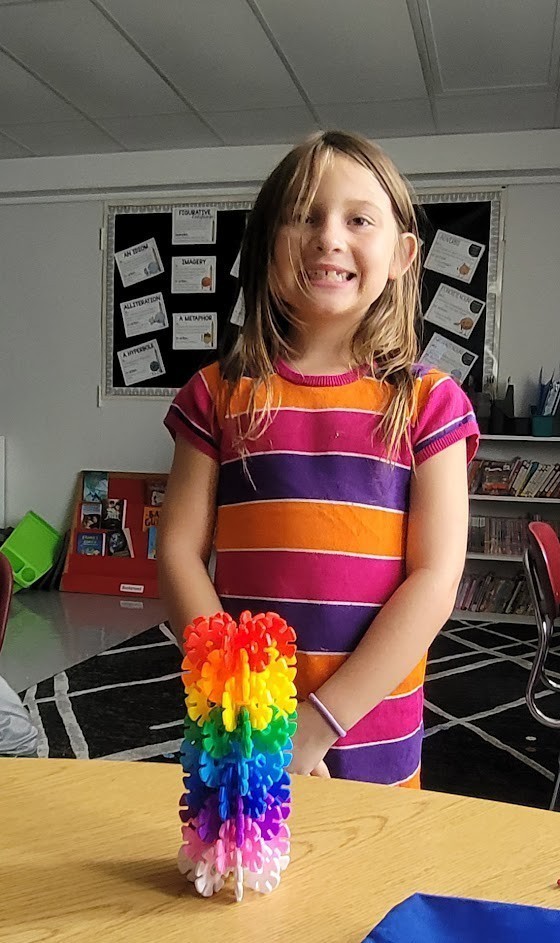 🎨✏️ Discovering creativity and imagination in every corner of our elementary classrooms! #MorenciBulldogs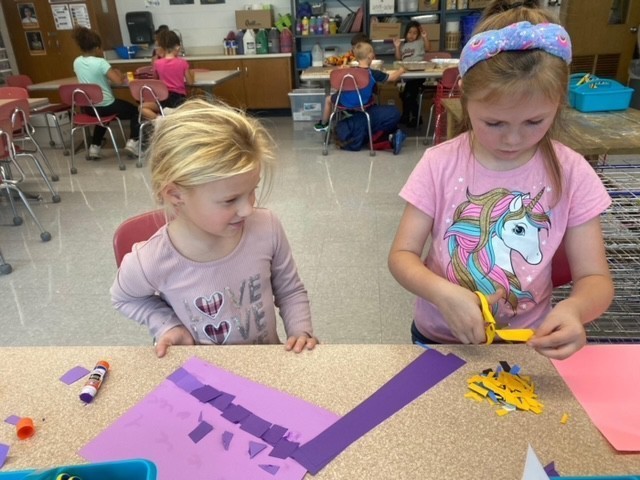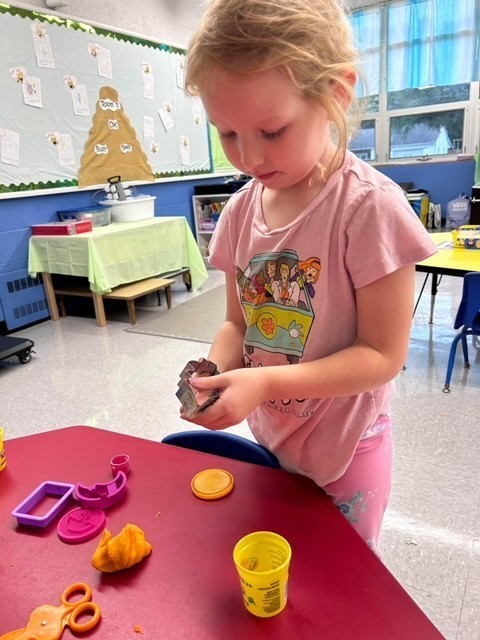 From classrooms to playgrounds, we're all about making learning an exciting journey! 🏫🌟 #MorenciBulldogs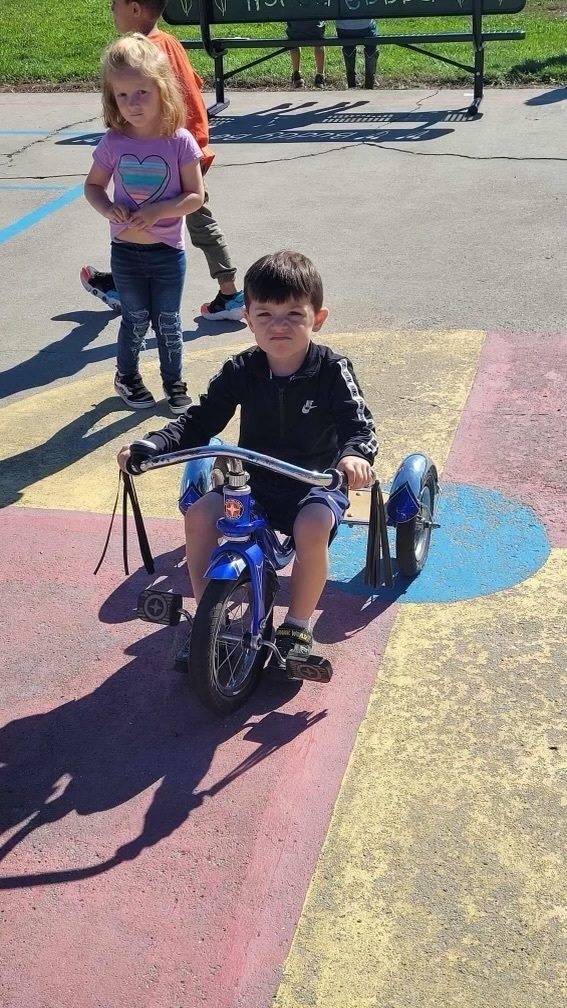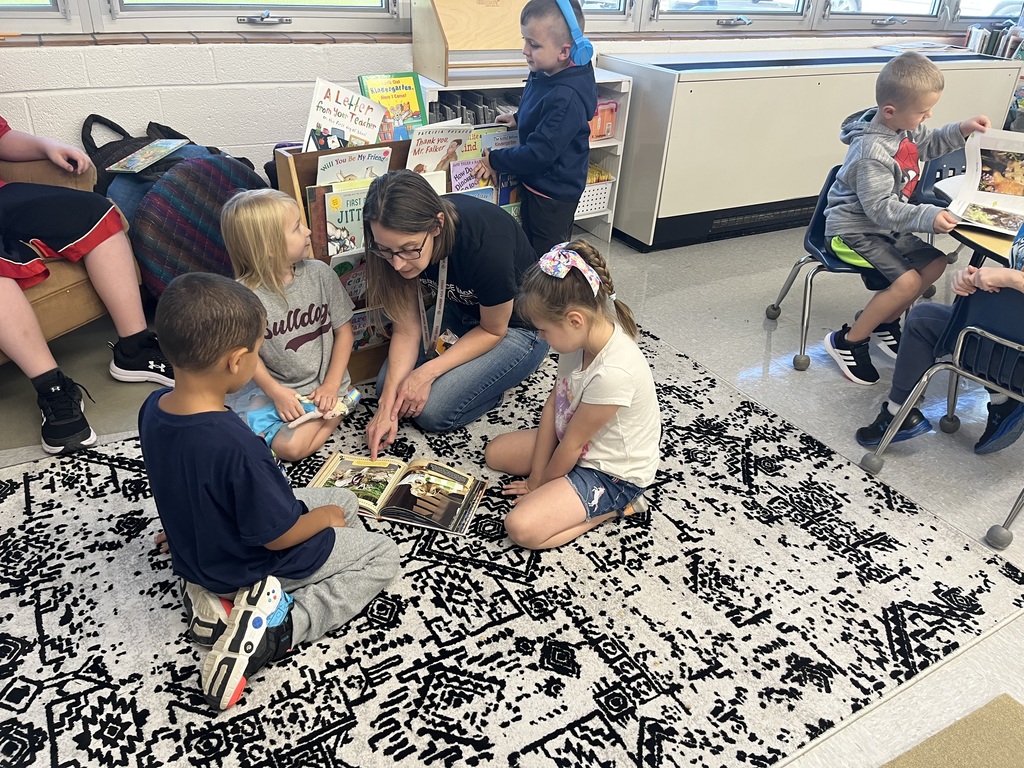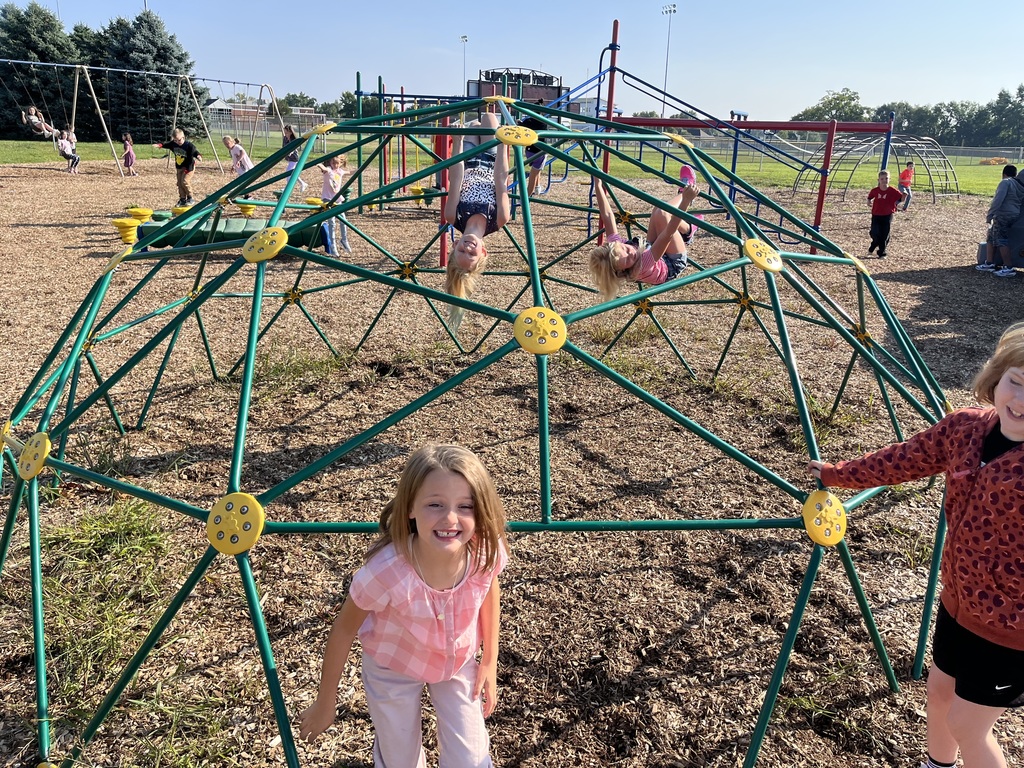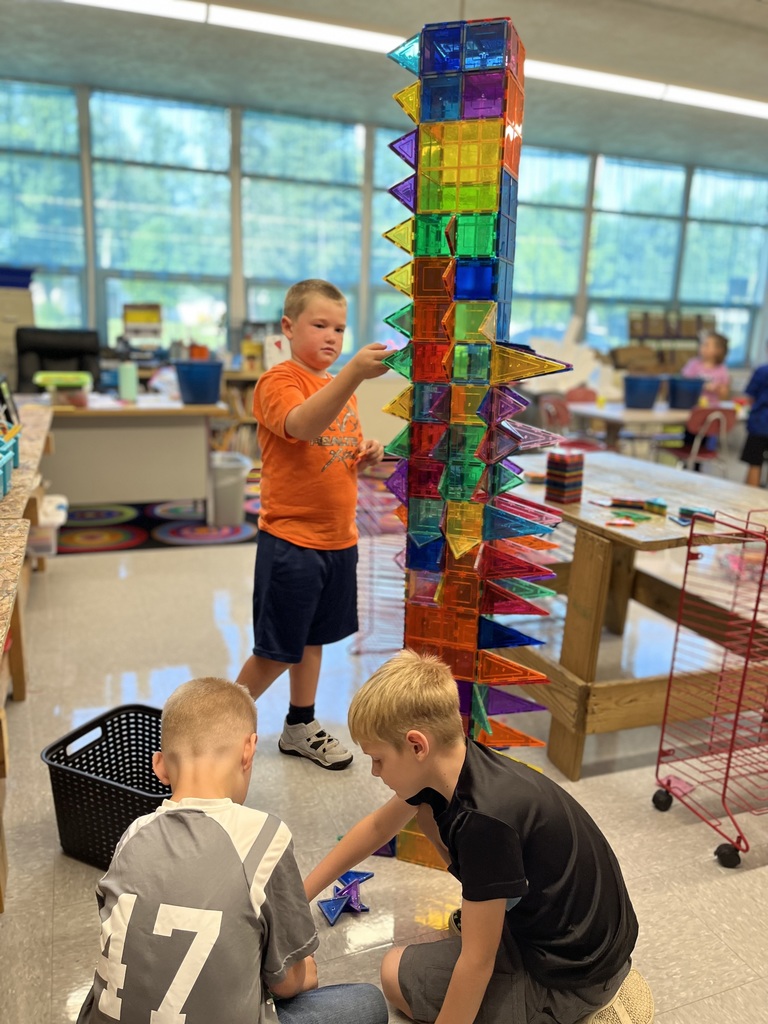 Join our pack of eager learners and experience the joy of education at Morenci Area Schools! 🐾📖 #MorenciBulldogs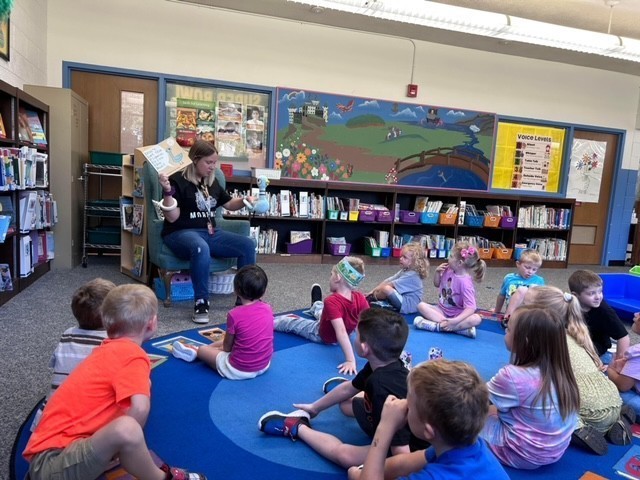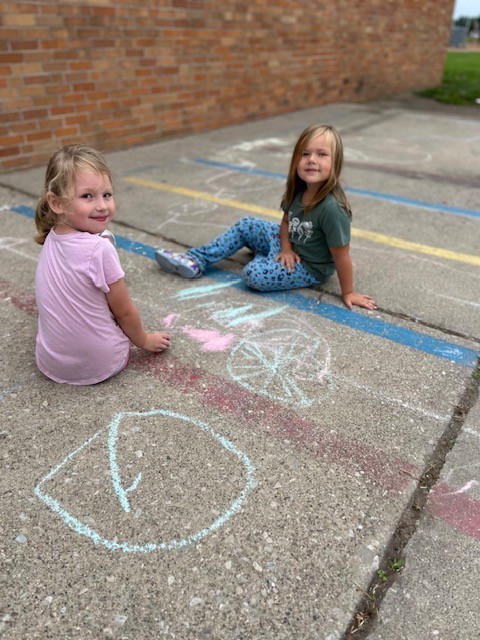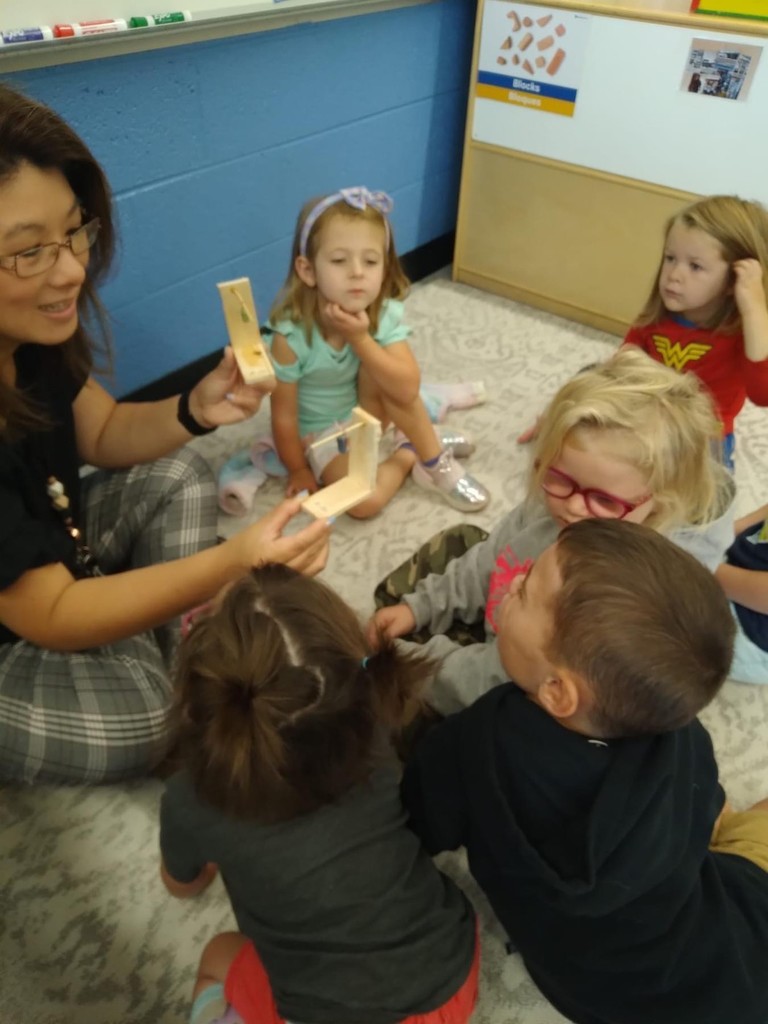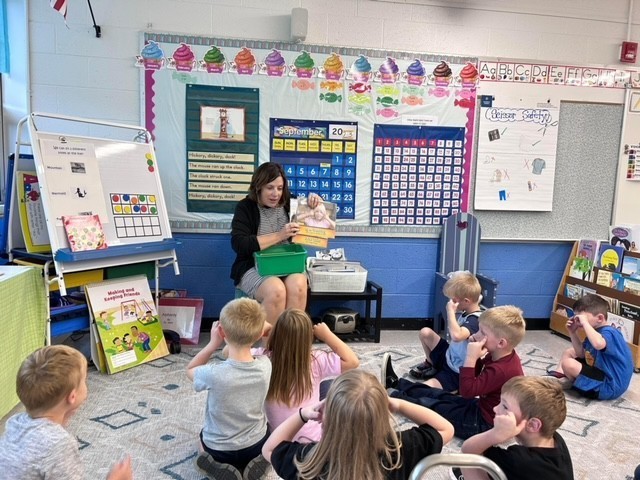 🏈 Join the Morenci Jr. Dawg 7 on 7 Flag Football Season starting August 29th for 1st to 6th graders! Nurture skills, teamwork, and a love for the sport at just $40. An unbeatable value covering coaching, equipment, and enriching experiences, it's the perfect chance for kids to learn football fundamentals, forge friendships, and embrace an active fall kickoff. Don't miss out on this fantastic opportunity to join the Morenci Jr. Dawg football team! Contact Josh Erskin or Matt Simpkins @
MorenciJRDawgs@gmail.com
. Let's make this season unforgettable! 🏆🏃‍♂️ #MorenciJrDawgFootball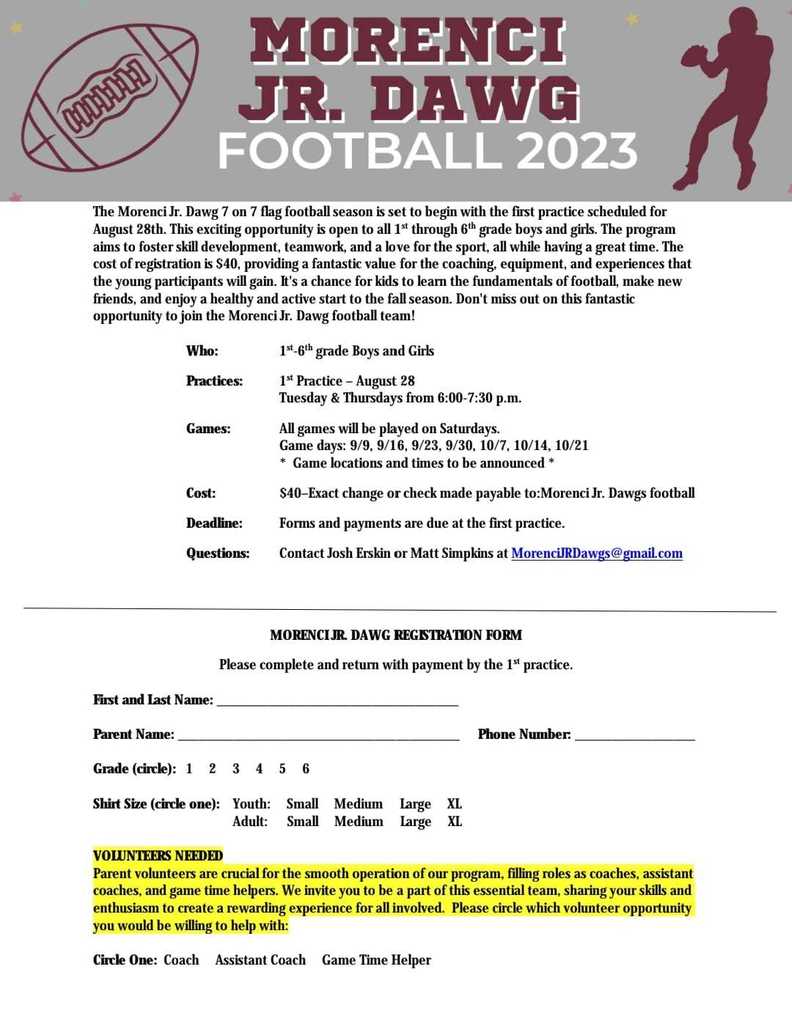 Middle school sports begin tomorrow, August 21. All Morenci Middle School students are welcome to participate. Each athlete must have a physical on file dated on or after 4/15/23. No sign-up is needed, just show up on the 1st day of practices with a physical & ready to go! Practice times on Monday, August 21: Football = 3:30-5:30pm meet at the HS Activities Entrance Coaches for grades 7 & 8 = Will Ables (
willtables@gmail.com
) & Todd Gilpin (
todd_co64@yahoo.com
) Cross Country = 6-7pm meet at the tree by the baseball field Coach for grades 6-8 = Michelle Reincke (
mreincke@morencibulldogs.org
) Volleyball = 3-5pm in the middle school gym 8th grade coach = Taylor Schisler (
taylorschisler@gmail.com
) 7th grade coach = Erin Ekins (
erinroseolson@msn.com
) Sideline Cheer = 6:30-8:30pm in the MS/HS cafeteria. Coach for grades 6-8 = Robyn Taylor (
rtaylor@morencibulldogs.org
)

🐾 Calling all Jr. Bulldogs and young sports enthusiasts! 🌟 An amazing opportunity awaits as the Morenci PTO sponsors the Bulldog Soccer program, a thrilling youth sport open for ages 4 to 6th grade, welcoming students from all districts to join in the excitement. Whether it's about learning new skills, forming friendships, or simply having a great time on the field, this is the place to be. Secure your spot now by registering online at t.ly/D92Fp and get ready for a memorable soccer journey filled with teamwork and fun. See you out there, ready to kick off some soccer fun, Jr. Bulldogs! 🐶⚽🏃‍♀️🏃‍♂️ #BulldogSoccer #YouthSportsMagic #TeamworkMatters #morencibulldogs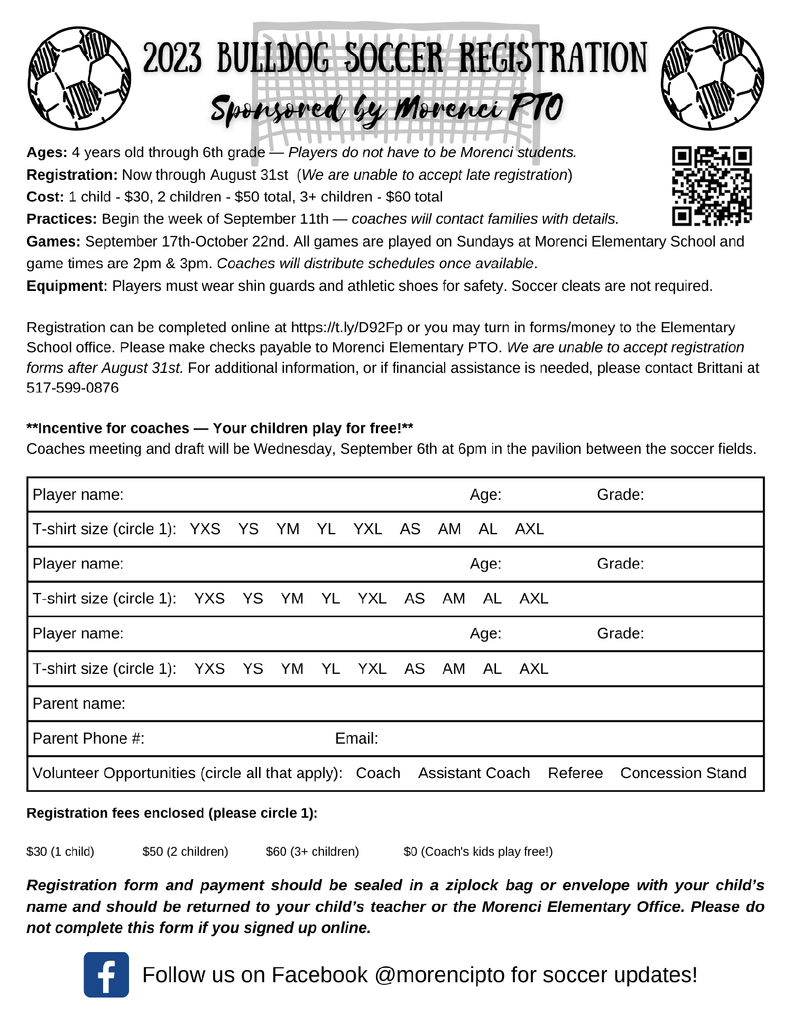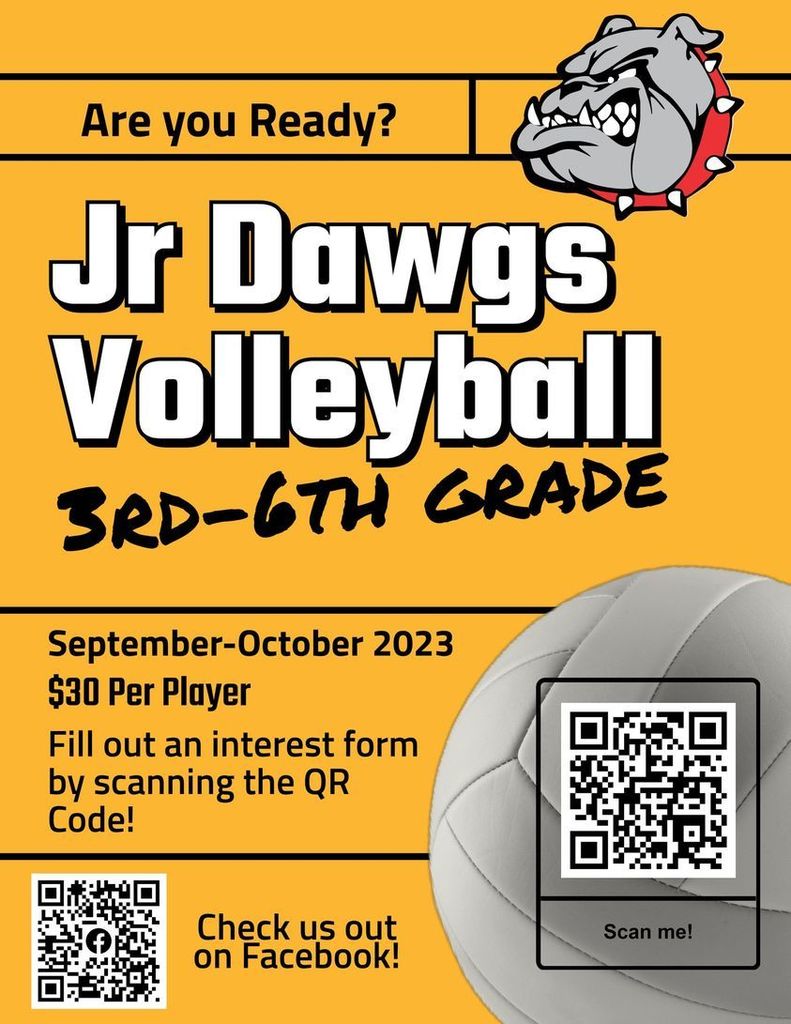 🎒📚🚌 Hey Morenci area friends! 🏫✨ Exciting news! Our 2023/2024 Back to School Newsletter has made its way to your mailboxes. 💌 If you haven't grabbed yours yet, no worries! Swing by any of these awesome spots to snag one for yourself, your pals, or your family: 📍 Morenci Elementary Office 📍 Morenci MS/HS Office 📍 Morenci Administrative Offices 📍 Premier Bank (Morenci Branch) 📍 Village Inn Don't miss out on the latest updates, cool events, and all things Back to School! 🎉🐯 #morencibulldogs
https://issuu.com/morenciareaschools/docs/district_newsletter_fall_2023_4_

📣 Calling all Morenci Area Schools bulldog enthusiasts! 🐶📣 Get ready for some adorable cheer action with our Little Bulldog Cheer squad! 🎉📅 Join us for practices every Monday and Tuesday as we gear up for 4 exciting competitions! ❓ For more information contact
kenadee.marry@morencibulldogs.org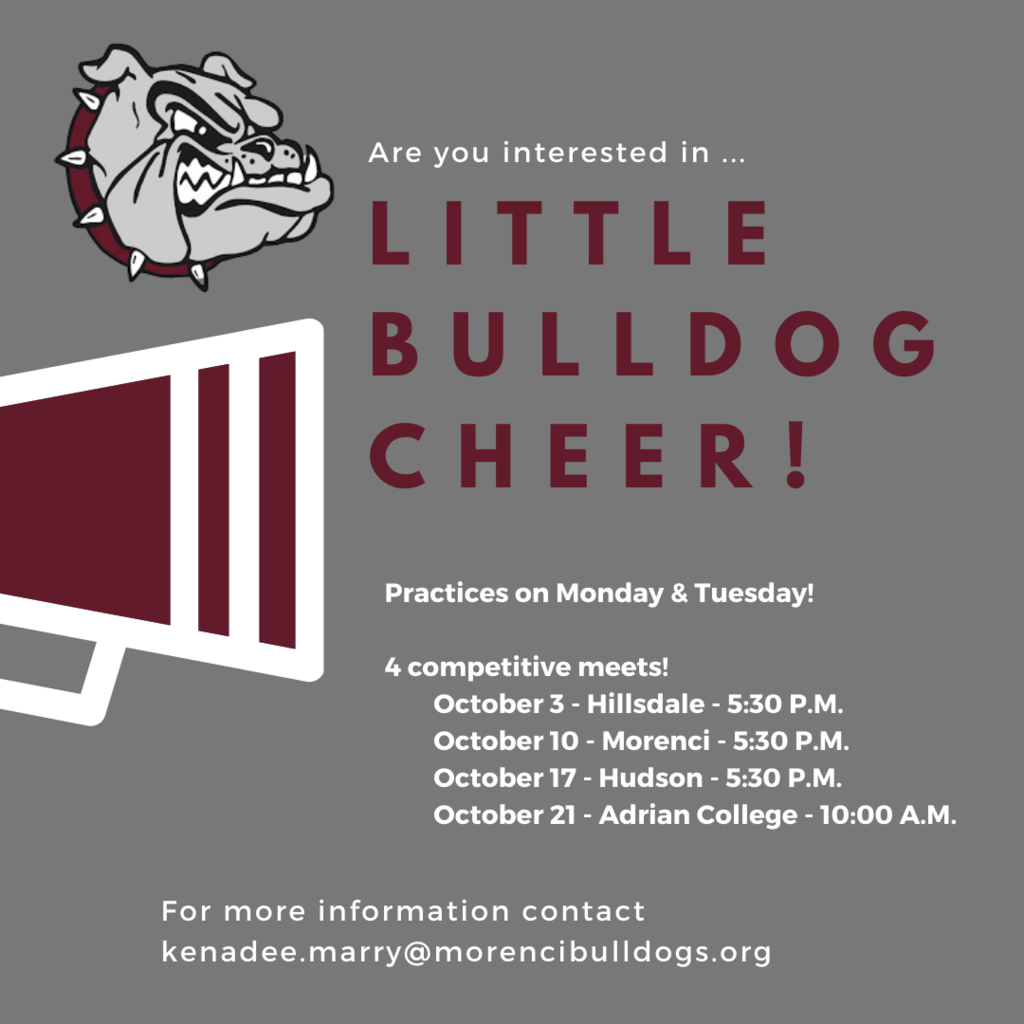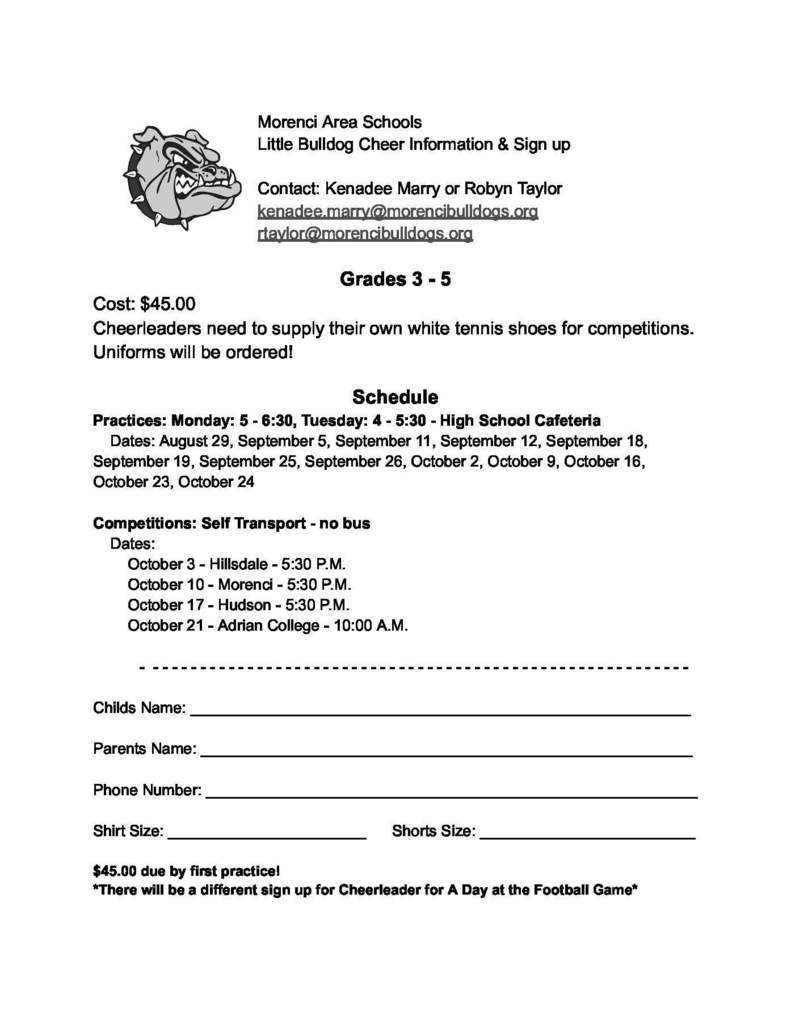 🥎 Exciting news! Morenci Varsity Softball is hosting a FREE softball clinic for girls in 3rd to 6th grades every Tuesday in September from 3:20 to 4:30 p.m. Bring your gear and get ready for a fantastic learning experience on the high school softball field! ☀️⚾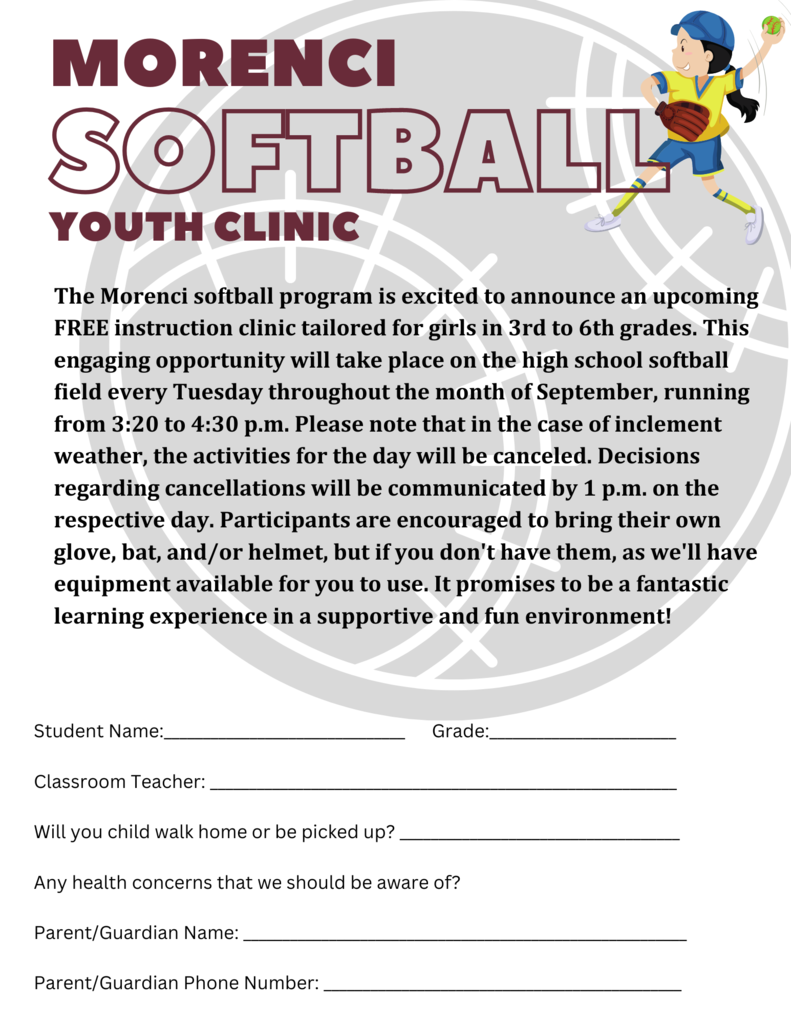 Each year, as part of the back-to-school registration process, parents are required to "update" their student's account. We are requesting that you please update your student's personal information for the 2023-2024 school year in the Infinite Campus Parent Portal. We need everyone to review and update the information for you and your student(s) before the start of school. In addition, you will also need to complete additional forms on the appropriate google drive to complete the annual update process. Both items need to be completed prior to the first day of school. Please follow these steps to update your registration. Step 1: Using your parent login information, log into Infinite Campus Student/Parent Portal (if you have any issues logging please contact the building secretary. (Only one parent/guardian needs to complete the online registration) Click on "More" on the left side Online registration Existing registration for current students Start - Follow tabs (items in yellow need to be filled out) Review and then submit Step 2: 1. If you have a student in the grades DK-5th, please complete the following forms online: DK-5th:
https://forms.gle/iFeLn9oxisq5UAoo7
2. If you have a student in grades 6th-12th, please complete the following forms online: 6th-12th:
https://forms.gle/x7i35eFSGs7269vf6
Once you have completed both Step 1 and Step 2 you have completed the online registration process. If you have any questions or need further assistance, please reach out to your child's building secretary. Thank you and GO BULLDOGS!

🏈🏐🏃‍♀️ Ready for some Bulldog excitement this fall? 🐾🍂 Introducing our brand-new one-stop shop for all things Morenci Bulldog Fall Sports! 🎉🛍️ Score the latest football, volleyball, and cross-country designs, spiced up with a dash of fierce Bulldog spirit. ⏳But here's the catch – this online store is open until Sunday, August 20th. Don't wait, gear up, and show your support today! Order online today:
https://morenciathletics2023.itemorder.com/shop/home/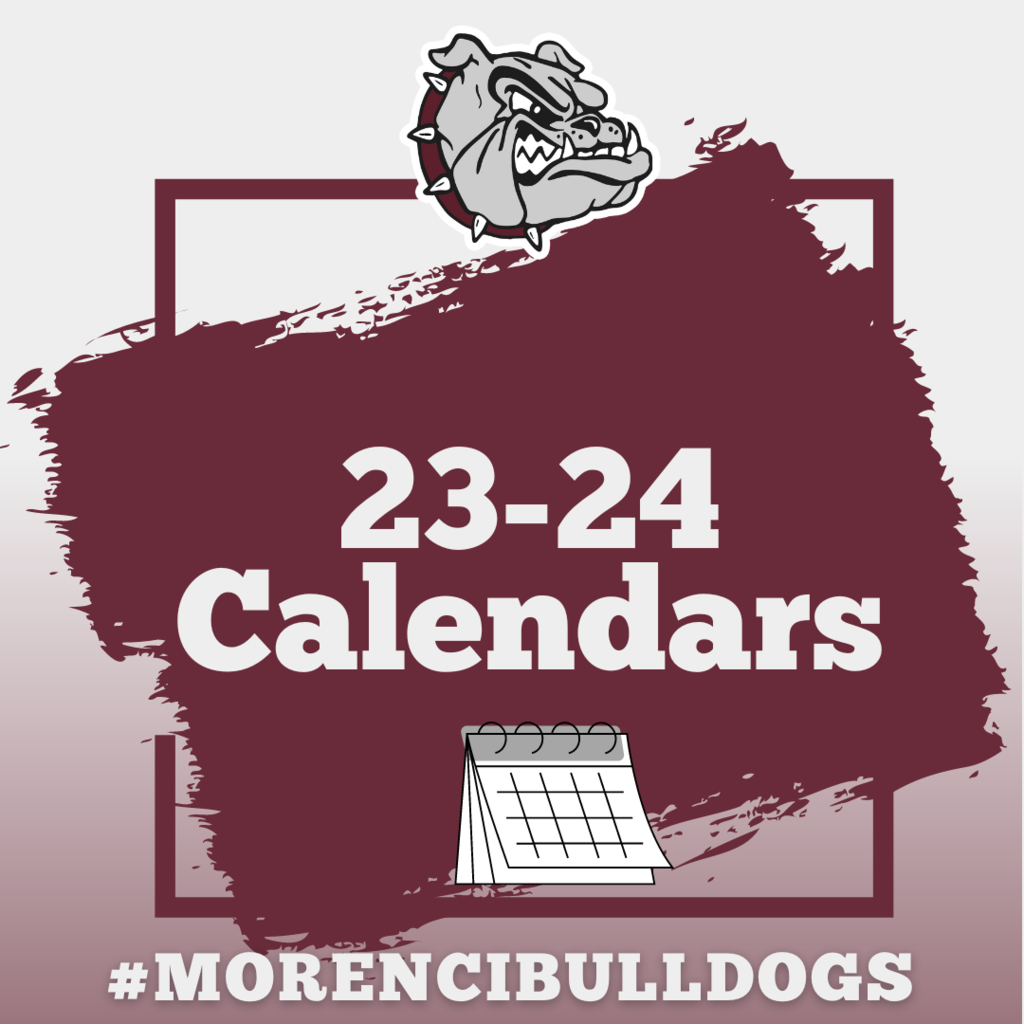 🎒✨ Last week, the #morencibulldogs elementary BIT team was hard at work on the PBIS Tier 2 training provided by the Lenawee Intermediate School District in preparation for the new school year! 📚🏫 They were eager to gain new knowledge and skills to support their students' positive behavior. 🌟💪 With the help of this training, they are equipped with strategies and tools to make a positive impact on students' lives. 🎉👏 The team's dedication and commitment to creating a supportive and inclusive environment is truly admirable!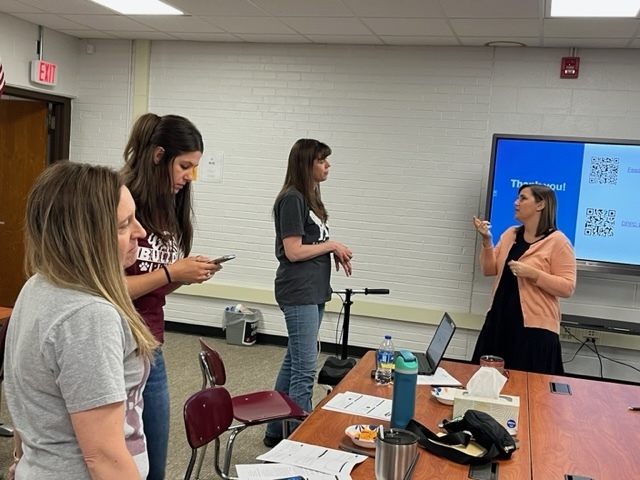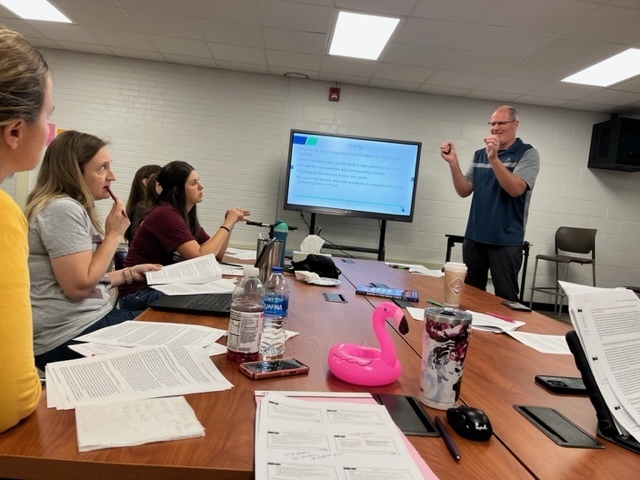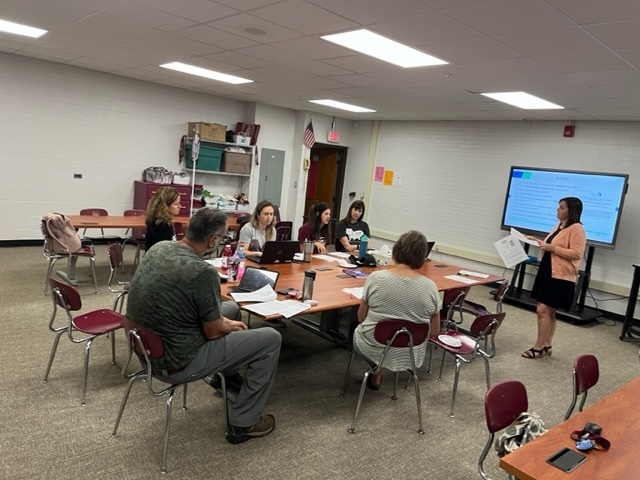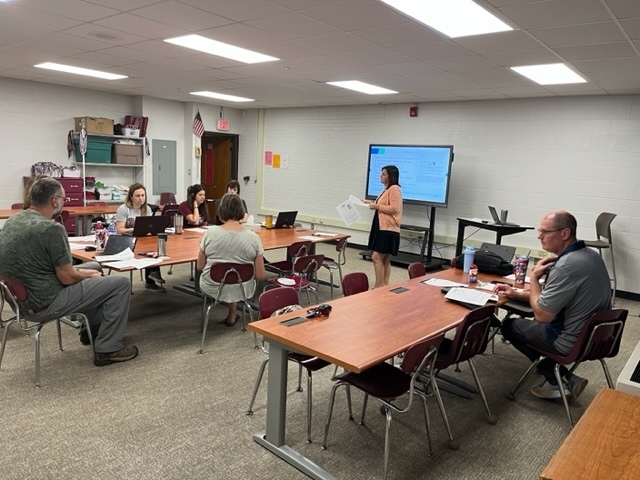 The Morenci football team is organizing a one-day youth camp for students going into grades 3rd-6th grade. Here are the details: Date: Monday, July 21 Time: 5:30-7:30 p.m. Location: [Location not specified] Cost: $15 per child Inclusions: Camp t-shirt and snack Requirements for the campers: They should bring a water bottle. They should wear athletic attire, including shorts, a T-shirt, and athletic shoes or cleats. The deadline to register for the camp is July 17. If you have any further questions or need more information, you can contact Coach Wilson at
nwilson@morencibulldogs.org
. Click here for the registration form:
https://5il.co/1vjsw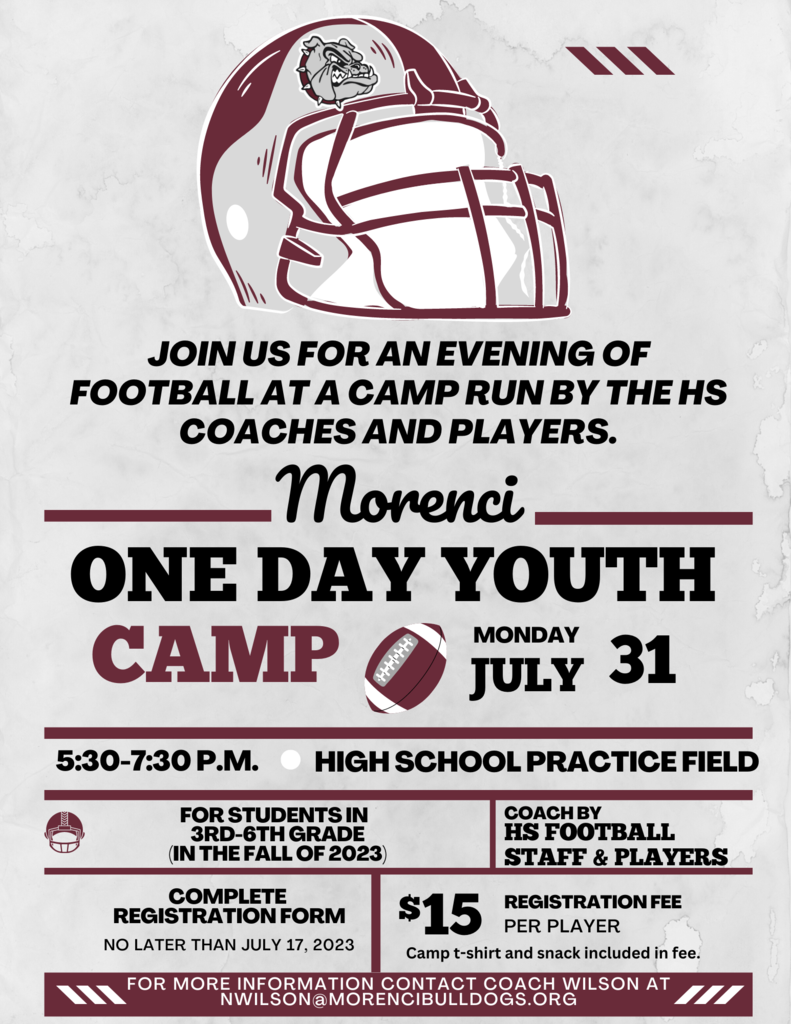 The Morenci Garden Club's Fairy Garden Workshop is a wonderful opportunity for 3rd, 4th, and 5th-grade students to engage in a creative and hands-on gardening activity. Celebrating National Gardening Week, this workshop will allow students to learn about fairy gardens and create their own magical miniature landscapes. Taking place on June 10, 2023, from 10 a.m. to noon at the Wakefield Park Shelter, this free event promises to be a fun-filled experience for the participants. If students are interested in joining the Fairy Garden Workshop, they can call 517-448-0722 or 517-306-3879 and leave a message to register. Enjoy the Fairy Garden Workshop and have a magical time creating enchanting gardens!

ECHO Term is in full swing this week. One of the courses offered is 3D printing. This class allows students to develop their creativity and problem-solving skills to design and fabricate objects that solve real-world problems. Students are using a program called TinkerCad to create objects and bring their designs to life.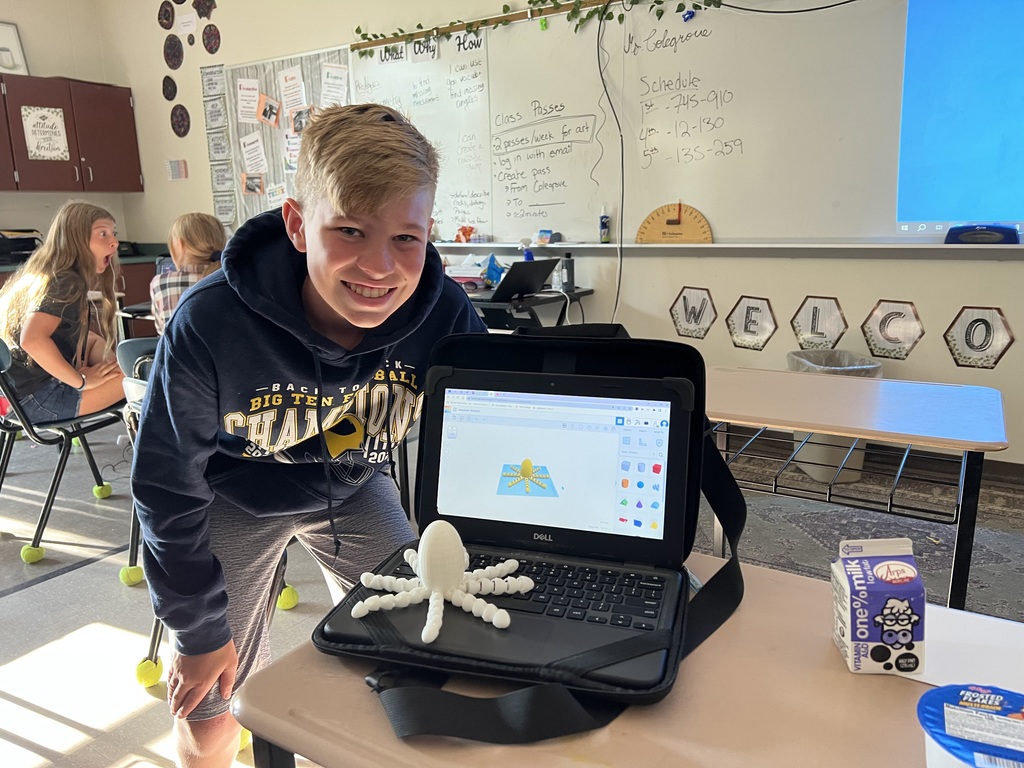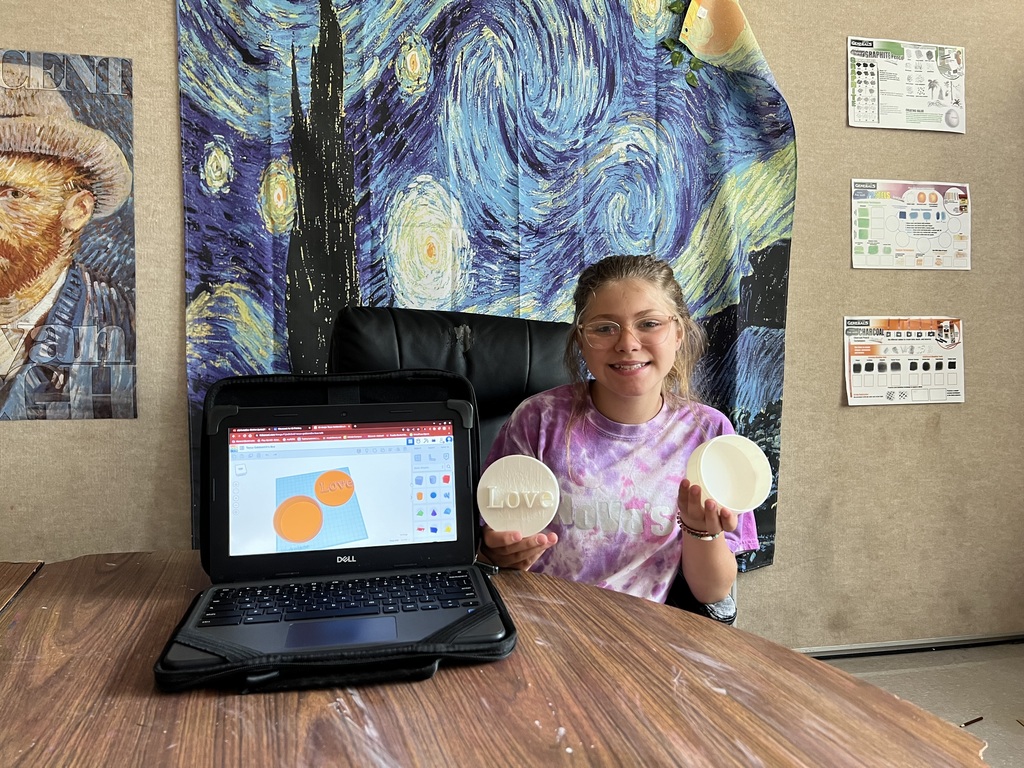 A day at the Toledo Zoo was a fun-filled adventure for the DK and first-grade classes. Experiences like these help bring the curriculum to life and create lasting memories for the students while enhancing their educational journey.